Heading north through the Yukon is a journey back in time. Small remote towns that have changed little since the gold rush of the 1800s. From Teslin,
To Pelly Crossing,
To Dawson,
Each outpost host a historic sites interspersed with a unique and remote Yukon lifestyle.  The massive Klondike River winds through this countryside dominating the landscape:
Dawson City is quite an experience. A town that boasts its historic charm, culinary excellence and boisterous nightlife. After a late evening stroll through town, hoping to find someone enjoying Dawson's signature drink "The Sour Toe**", we hopped the sunset ferry back to our campsite a bit after midnight. It's a real trip living with no nighttime! I'm not sure it ever got completely dark. A bit disorienting.
A jaunt through the Yukon's Tombstone Territorial Park was a great way to appreciate the history and scenery of the near arctic north.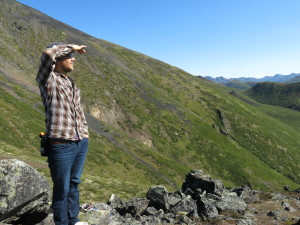 Now we're setting off on the "top of the world highway" into Chicken Alaska (thanks for the rec Ryan!).
** The Sour Toe is a shot of strong liqueur with a real human toe, apparently sterilized, fermenting at the base. Rumor has it that you are fined $500 if you swallow the toe. We didn't see anyone enjoying Dawson's signature cocktail, but we heard whispers of it throughout the town.